A very early start to catch the first flight out of Heathrow for Geneva can be made a great deal more pleasant on a gorgeous mid-summer morning, and this was certainly the case as I boarded my Swiss Air flight at just after 6am.
Trips to Geneva are always greatly anticipated these days, because it means we're visiting Goldmund, which also means we're in for another Swiss-Made audio treat.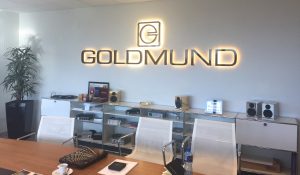 However, this two day trip will be even more special as we've organised a meeting with a well known and respected HiFi Journalist who will be conducting an exclusive '40thAnniversary' interview with Michel Reverchon, the legendary owner of the company and Dr Veronique Adam, the genius Acoustical Engineer who heads Goldmund's world renowned R&D Labs – but that story will have to wait for another time
As usual, Swiss Air flight 359 arrives on time, although it takes a lot longer than normal to get through passport control….. a taste of our post-Brexit travelling future, possibly ?
Anyway, sales director Rodolphe is waiting to meet me at the Arrivals Gate and after a short 10 minute drive, I'm sitting in the Goldmund meeting room having a well-needed espresso.
So, what wonderful audio delights do we have planned for the remainder of 2018 and into 2019….
Firstly, we have the Samadhi speakers that were unveiled at this years Munich High-End show – more about them later. There will also be a new, small '2-box' design called the Prana. Due in the Autumn, these will be the smallest model in the iconic 'Z-Frame' range alongside the aforementioned Samadhi and the classic Satya designs.
Unfortunately that morning, I had just missed out on seeing the newest addition to Goldmund's world beating amplifier range, the Telos 3300 NextGen. The guys in the factory had crated up the last one of six newly built pairs that were heading off on a flight to Asia in the afternoon.
The same production line was now occupied by a batch of 14 Telos 1000 NextGen amplifiers, which gave me a chance to inspect at close quarters the incredibly intricate construction and the typically Swiss attention to detail from the staff at Goldmund that goes into making these class leading products.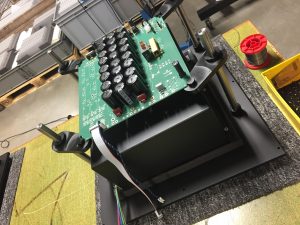 We also discussed with Michel, the latest Goldmund universal disc player. The new Eidos 36U-4K will be the ultimate playback machine for both digital audio and video discs.
In fact, Michel pointed out that Goldmund had worked very closely with the manufacturer of the disc mechanism and had acquired all remaining stocks of this device when the decision was made to cease production by the supplier.
Therefore, this might possibly be the last disc player that Goldmund will also produce and it will definitely be the finest 4K-HD player ever – a future classic that will sell out quickly, no doubt.
So, it was time for a listen to what is probably the finest audio system currently available on this planet – the Eidos 36U-4K transport, the Mimesis       32.5 processor and the superb new Samadhi wireless speakers.
Now, I must admit, this was an interesting demo session because the last time that I had sat in this chair was 6 months previous, to hear the astonishing, limited edition Apologue Anniversary speakers (with the same processor but using the previous generation 36U player) and I will happily tell anyone and everyone that it was the most realistic, life-like, reproduction of music that I had ever heard – by a huge margin, this was Goldmund not just moving the goal posts but blasting them off into space and sticking them on another planet !
Surely, these new, smaller and considerably less expensive (we're talking half the price) models couldn't challenge their much bigger brothers….. ?
Oh yes they can, in some areas they lose out a little bit to the Apologues as they don't quite have the scale or effortless presence of the big boys and they just lack the complete bandwidth of those incredible speakers at the very deepest of bass frequencies and the most imperceptibly delicate of top ends.
But, I'd say you're getting 95% of the Apologue with possibly a more coherent and seamless presentation – all in all, a remarkable achievement given the size and cost savings.
Our Journalist guest was also suitably impressed, commenting that once he'd adjusted to complete absence of the usual sonic aberrations that plague other systems, he was totally enthralled and captivated by the musical communication and performance that he was experiencing… as he played disc, after disc, after disc.
However, this is simply the starting point for the new Samadhi, as further conversations with Veronique regarding the progress of various R&D projects from the Goldmund Foundation across the globe, will redefine a great many parameters and limitations of even these magnificent designs.
This research work is so far-reaching that it's pushing the limits of what is possible with the current architecture of computer processing as Goldmund begin looking at ways of putting the power of a Geneva based Supercomputer into their speakers and preamps.
Exciting times ahead, for the next chapter in the Goldmund story. Watch this space…