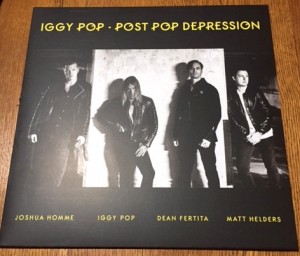 Iggy Pop's 'Post Pop Depression' still feels fresh and relevant one year later and regularly spins at Sonata.
The album's raw, sonic textures blasts out pure pop classics such as 'Gardenia'. But, pop with a dark 'Iggy' twist and sexual lyrics of forbidden dreams.
Iggy's musical collaboration with Josh Homme, Arctic Monkey's drummer, Matt Helders and LA multi-instrumentalist Dean Fertita is a dream combo delivering an album that picks up where 'Lust for Life' left off.
Another reason why this great album is close to our hearts here – Sonata's very own Rob Wilson (Dr Rob) back in his lecturing days, taught the engineer and mixer, Mark Rankin. It's great to see Mark putting all that knowledge to good use 😉
When questioned about this album, 68 year old Iggy said, "I feel like I'm closing up after this". Let's hope this is not the case, the world needs you Mr Pop…