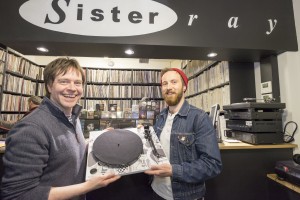 We are delighted that our limited edition Rega turntable has gone to a good home.
The winning name pulled out of our free prize-draw box was Danny Hughes from Peckham, London. Danny is a keen vinyl collector and was actually looking to buy himself a new deck. He said he has entered our RSD prize draw competition before, so it just goes to show, good things come to those that wait!!!
We'd like to say a big thank you to Phil Barton at Sister Ray for allowing us to run the competition from his shop (for the 4th year running), Alan Sircom at Hi-Fi Plus for popping along and taking some great shots AND to everyone who entered the competition, braved the long queues and continues to keep RSD alive and well.