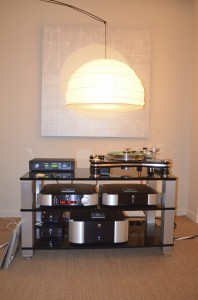 Here's a pic of the fabulous system that Renaissance Audio put together for the Classic Album Sunday at 'Loud and Clear' in Edinburgh last weekend.
The lovely guys and girls at L&C even managed to rope me into doing the presentation of that weekend's recording – 'Rumours' by Fleetwood Mac.
Suffice to say, the music was superb (and the presentation wasn't bad either !)
The sound was so good, we decided that this actual system will form the main playback for the CAS room at the National Audio Show (Whittlebury, 21-22 Sept) along with the wonderful ProAc K6 speakers.
Sonata will be supporting CAS's Colleen Murphy at the show with the help of Loud & Clear and Renaissance Audio.
Drop in and hear this stunning system playing some of the greatest Classic Albums.
Me and Evie look forward to seeing you there.