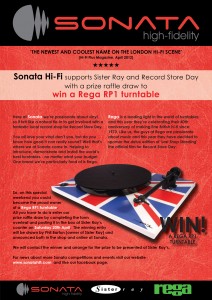 Here's the flyer for our upcoming Record Store Day Prize Draw – Win a Rega Turntable.
We'll be hanging out at Sister Ray's in Soho helping to promote the joys of spinning vinyl on our wonderful Rega turntables.
Hopefully, our colourful Rega window display will cheer you up as you queue for those precious special releases on the 20th April.
Entertainment will also be provided by a host of great bands that Sister Ray are putting on in the street outside the shop.
For more details see www.sisterray.co.uk
Once you get inside the shop (which might take a while…) make sure you remember to post your entry there for a chance to win a Rega turntable.
What better way to enjoy your RSD purchases !