What a busy day but it was worth it !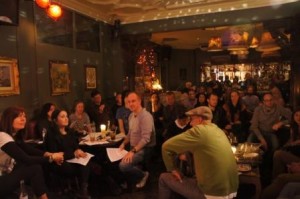 A packed room upstairs at The Paradise proved that The Clash can still pull a crowd in Portobello.
Both myself an Yvonne would like to thank everyone who came, for making the event such good fun and also a special thank-you to all our friends who made it possible.
John and Agathe from Renaissance Audio for travelling down from Edinburgh with a van full of amazing MOON, Black Ravioli and Studio Connections (and Kiseki) goodies !
David for helping us get the superb ProAc K6 speakers 'on stage'
Rob and the gang at Rega for the wonderful P9 turntable.
John and Terry for doing a brilliant job on the pop-up record shop, I'm surprised the tables managed to take the weight !
Finally, our superstar DJ, Colleen 'Cosmo' Murphy for presenting 'London Calling' in all its Punk glory.
Roll on the next Sonata Showcase.