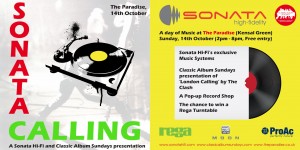 We're all set for Sunday and can't wait to get the music playing, especially since we'll be using 'the best speakers currently made in Britain' (Hi-Fi Plus magazine)
Our wonderful ProAc K6s will be powered by some world-class amplification from MOON, particularly the new 810LP Reference phonostage and also, because we're sensitive to our London audience's needs, we'll be making use of the compact powerhouse that is their 700i integrated amp.
Also having its first outing in the Capital will be the cutting edge MOON MiND streamer (via the 750D CD/DAC) just showing that, although we love our vinyl, Sonata can also mix it up with some seriously good sounding digital media.
However, the main source will be good old vinyl, courtesy of Rega.
Their latest flagship turntable will be playing the tunes and tracking those grooves with a Dynavector cartridge, so a pleasant time is guaranteed for all.
Finally, DJ Colleen 'Cosmo' Murphy will give the system a real workout as we settle down to absorb the seminal 'London Calling' LP by The Clash.
Portobello rocks once more to the sound of a Classic Album Sunday !