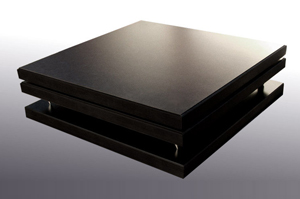 Sonority has all the bases covered with these 2 models, one of which can be used for stand-mounted speakers and the other type is for floorstanders.
The floor platform is a permanent fixture here at Sonata and I just allows any great speaker to shine, bass becomes deep, tight and coherent while to highs just sparkle.
Music moves out of the confines of the speaker enclosures and into the room.
A marvellous product that can be tailor made to suit all speaker types, you should hear the results in Steve (the designer's) room !