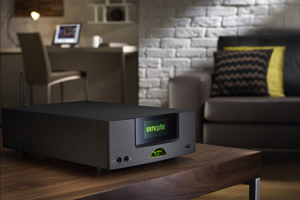 Yes, it's cute and yes it unites a lot of stuff in a little box.
We've got an in-built amplifier with a very flexible preamp section (2 analogue inputs and 5 digital jobs – 24/192 capable to boot) plus a superb FM/DAB tuner.
You can plug your iPod into the USB socket but this input sounds even better with a nice high-res audio file from a memory stick.
Oh, we've also got an Ethernet port and Wi-Fi too so it's a perfect partner for the brilliant little UnitiServe.
A pair of ProAc Tablettes or some Totem Arro's and your really in business.