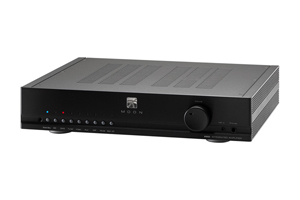 Once again MOON have brought some more terrific entry level products to the party (just like the 230 and 260 CD players)
The 220 is just so sweet, I simply adore products like this that offer so much fun for the price.
With 40 watts of big MOON sound from its speaker terminals the 220 makes a great music system with a pair of ProAc Tablettes or Totem Mites.
In a similar fashion to the CD players, the 250 brings all the system integration the the party (RS232, IR, Sim Link) as well as a handy extra 10 watts too !