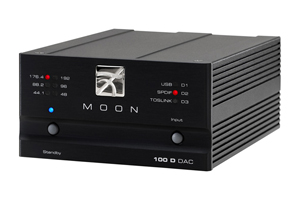 Lovely things come in small packages they say, well the littlest MOON dac is certainly true to form.
It's an ideal way to improve the sound quality of any computer, streamer or aging CD player.
This little devil is fitted with 3 digital inputs (including USB) and can deal with all the sample rates and bits you can throw at it.
The really special bit however, is that you still get a big helping of lovely MOON sound.
A typically big, musically inviting portrayal of all your favourite records which is still something uncommon with many digital devices.