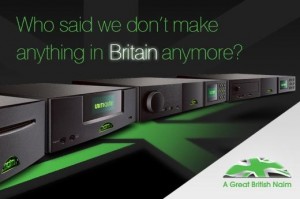 Great news !
To celebrate Naim Audio's inclusion at the 'Make it in Great Britain' exhibition hosted by the London Science Museum, they're running a competition to win a superb Naim hi-fi system.
To enter, just visit the link below.
www.naimaudio.com/a-great-british-naim
Also, as part of our Olympian 'best of British hi-fi' month, we will have numerous Naim products on permanent demonstration at Sonata.
Come round and hear them alongside other brilliant British products from Rega, ProAc, Chord Co, Epos, Quadraspire, Atacama, MusicWorks, Black Ravioli and Studio Connections !
Either call us on 0330 111 5653 or e-mail rob@sonatahifi.com to arrange a visit.
We look forward to introducing you to some fabulous musical sounds.