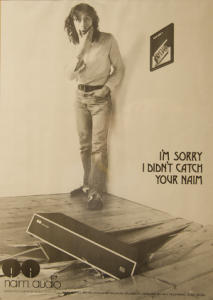 OK, this is a huge announcement for us – we're Britain's newest Naim dealer !
So, I apologise about the over used title 'pun' but it does hark back to those classic Naim Ads that I drooled over in my student days and I couldn't resist it.
I've spent many an hour enjoying my music collection through Naim equipment since those halcyon University days.
Therefore, I guess it's only natural that I'd want to be able to introduce my customers at Sonata to the special musicality of Naim Audio.
Luckily for them and us, after Yvonne and I had a very enjoyable visit to the factory those nice people in Salisbury said they'd like to work with us….. so here we are !
There's a nice selection of various Naim equipment in our studio and much more information will be appearing on our website soon, so please stay in-touch.
But until then, let me just say that the latest streaming stuff is brilliant – just like all the rest of the range !