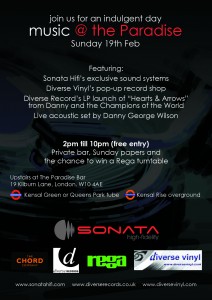 We're having a party, come and join us !
Upstairs at the Paradise Bar (Kensal Green) is the place to be on the 19th Feb. (2pm till 10pm)
Sonata, along with our good friends at Rega, Chord Co and Diverse Vinyl will be putting on an indulgent day of great music.
A private bar, Sunday papers, a pop-up record shop and a free raffle plus a superb sound system.
What more could you want ?…. Oh yes, free entry of course.
www.diversevinyl.com
www.rega.co.uk
www.chord.co.uk
www.theparadise.co.uk