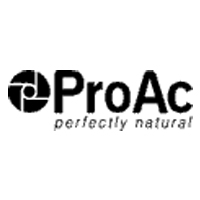 An easy one this, my ears and ProAc speakers are soul mates.
When I first started thinking about Sonata and what it would mean, ProAc were the first name on the team sheet.
Why ?
Well, I've used them for over 20 years and they fall into that small (no, make that tiny) group of loudspeakers that you can listen to for both work and pleasure.
A musical studio monitor.
Many people tell me that they want to have a pair of 'studio' speakers at home, to which I say "no you don't" (in my most nasal of Harry Enfield tones).
The reason being that when I settle down into the familiar caress of our comfy sofa with a nice glass of red, having popped a slab of the shiny black stuff on to the Simon Yorke, the last thing I want to hear is the harsh, cold, analytical sound produced in the majority of studio control rooms.
No, I want to hear music. Of course I'd like detail too but not to the detriment of the music, what I really want is the meaning behind it.
The genius of ProAc's is that they can do all that.