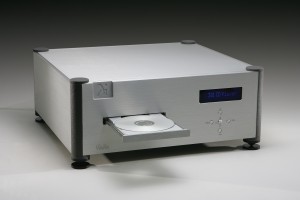 This handsome brute is a very serious piece of precision engineering, impressive to behold and lovely to listen to.
Lovely ? – not a word that's usually associated with digital reproduction and that's exactly why I've used it because this player is so utterly beguiling.
Our 381 gets some serious work outs here at Sonata and you know it must be good if it's managing to tempt me away from my Simon Yorke turntable.
Now, it's certainly not cheap but it is great value particularly in the 'i' spec that we've got.
This adds a whole raft of digital ins and outs (AES, SPDIF, Optical and USB) that allows the player to become a digital control centre with a digital volume control that actually works (trust me, so many digital level controls just don't work)
We're having so much fun with the 381 and Wadia's 171 iTransport. Friends and clients just can't resist docking their iPods and hearing them make music for once.
It also allows those of us who are dipping our toes into the world of home-based computer audio (fortunately, I've been exposed to computer audio in recording studios for over 20 years) to run our data streams into a world class DAC.
The Wadia 381i is quite simply a fabulous musical investment.
So, go on, spoil yourself and your music collection.