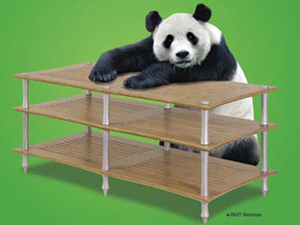 Wow, the latest Bamboo shelves from Quadraspire are really rather special.
Available in both Q4 and SVT styles, they look gorgeous and are kind to the environment.
Icing on the cake time, they really do sound better too – especially underneath turntables !
Why ?
Well, to hazard a well educated 'acoustical' guess, I reckon that the fibrous nature of the raw material will be much better at damping vibration than dusty old MDF – similar in fashion to birch ply I would think.
Recording studio panel absorbers come to mind.
Either way, it's a no brainer and hopefully before too long, all the shelves leaving the Quadraspire factory will be of the bamboo variety.
Bye, bye MDF.