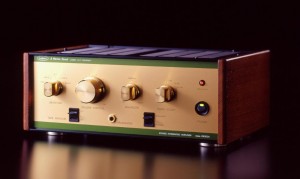 Small and perfectly formed, the Leben 300XS is quite simply 15 Watts of pure musical bliss.
We first heard this wonderful amplifier in New York where it was quite literally man-handling a pair of DeVore 9's with 'The Stooges' on vinyl (of course) courtesy of the superb Well Tempered Amadeus (yes, Sonata also has the DeVores and the Amadeus).
Handmade by skilled artisans, the 300XS uses EL84's (no wonder Yvonne  loves this amp, her beloved Vox AC30 uses the same valves) and 12AX7's.
It also has some great features, most notably an amazing headphone output. My battered old AKG studio cans have never sounded better !