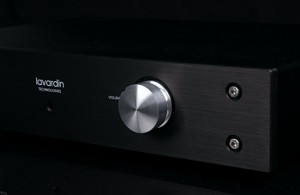 What a breath of fresh air this integrated amplifier is, can making great music really be this easy ?
The IS Reference is a star, one of those all too rare products that make you realise how crazy most other amplifier systems are.
In fact, it's a real music lover's amplifier and something that the majority of Hifi hobbyists struggle to come to terms with ……
I thoroughly enjoy watching the bemused looks on their faces as it goes from "does not compute" to eventually "the penny has dropped". Yes, all that music from one simple box.
This outstandingly simple, elegant looking integrated really does make a mockery of the whole multiple box amplification systems that some companies make.
Fun, fun and more fun. Once a Lavardin has you in its musical clutches it is very, very difficult to escape from the enjoyment. Album after album, hour after hour, especially via the brilliant MM input that we've got fitted to ours.